CARTOL Industrie is a specialized company for welding sub-assemblies or assemblies for industries such as aeronautics or automotive.
From design to product delivery, CARTOL Industrie offers a wide range of services and knowledge. One of our company's areas of expertise is cataphoresis.
Cataphoresis is a paint deposit technique historically used by car manufacturers since the 70's This process consists in immerging the part to be painted in a water-soluble paint bath. The process is also called cationic electrodeposition.
With cataphoresis, the paint particles suspended in the bath are fixed with controlled electricity power. They move from an anode (the paint) to a cathode ( the submerged part to paint ).
This technique optimizes anti-corrosion treatment and evenly distributes the paint over the body part. Cataphoresis is ideal for bodywork and provides an excellent finish.
Subsequently, the other industries (aeronautics, agriculture, automotive, construction, defence, rail, handling, naval, etc...) took over this technique.
THE ADVANTAGES OF CATAPHORESIS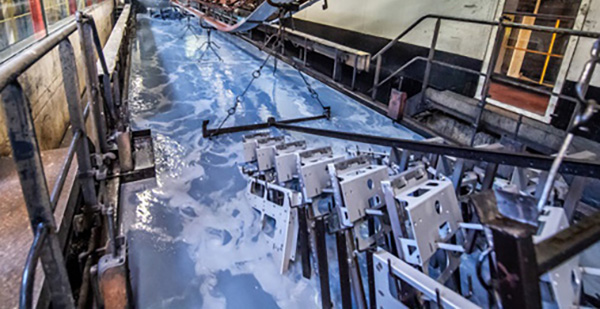 Thanks to cataphoresis, the paint particles are deposited on the submerged parts uniformely.
The paint covers the entire surface, including recesses, threads and sharp edges (angles less than 90°). In addition to being regular, the coat of paint is very thin close to 20 micrometers.
Other advantages of cataphoresis:
- Very resistant to corrosion
- A good grip for liquid paint or powder finish paint
- Excellent alternative to galvanizing
Cataphoresis is a painting technique with a very high application efficiency of 99%. The immersion process considerably reduces the losses and the excess paint is refueled to the tanks.
CATAPHORESIS AT CARTOL

INDUSTRIE
At CARTOL Industrie, cataphoresis is available for all types of parts, whether they are small, medium or large. With our cataphoresis process, we ensure a production capacity of 25 per hour (racks/pieces).
Our company can treat parts up to 5 meters length, 2.20 meters width and 1.80 meters high. The maximum mass accepted by the conveyor is 500 kg. To carry out the cataphoresis, we have two systems of hook, either directly on the part to paint, or on racks. The materials treated with cataphoresis are many, including steel, galvanized steel, electrogalvanized steel and aluminium.
Cataphores gives also excellent grip layer for liquid paint as well as for powder finish paint. This painting technique is a good alternative to galvanizing due to optimal resistance to corrosion ensuring.
If you want to know more about the cataphoresis services provided by CARTOL Industrie, such as cataphoresis subcontracting, large-scale cataphoresis or cataphoresis by continuous process, feel free to share your project with us.